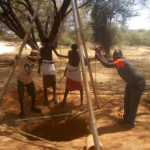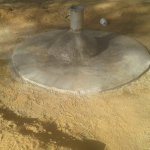 Our team has drilled a new well at Lasaen (North Kenya)
The well is now nearly completed. We are waiting for a part of the pump which is not available in the North
Our team has also educated an Uganda team how to drill with a Floflo system.
This new team will also be supported with knowledge by WellWishes when they make new wells in Uganda.
Our next project will be the repairing of existing wells in North Kenya. Every repaired well gives around 500 people access to clean and safe drinking water!
Have you sponsored a well in Kenya and do you need an organization who can yearly service this well? Please call or mail us for the possibilities.